Road Trip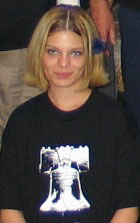 Boy, are you guys troopers.
On Monday morning, we put out a call for $10,000.
To fund our ballot access drive in New Mexico.
We asked for $10,000 by midnight Wednesday.
And we blew past it sometime early last night.
In fact, 149 of you kicked in $12,607.27 in just two days.
If our math is correct, that's $84 a donation.
That's exactly what we needed when we needed it.
And starting this morning, our road-trippers are headed for Sante Fe and Albuquerque.
One of those road-trippers is Emily Brackett, pictured above.
Emily is a veteran Nader petition gatherer.
"I am so proud to be a part of a campaign that is intended for people who feel abandoned or let down by our political system," Emily told us before she took off for New Mexico to help get Nader/Gonzalez on the ballot. "May our efforts begin in the deserts of New Mexico and may they finally end and bring peace and resolution to the ravaged deserts of Iraq."
Emily and the others who are heading to New Mexico thank you.
We thank you.
As you know, Nader and Gonzalez are on the opposite sides of the political fence from Clinton/Obama/McCain.
We see things differently, that's all.
They say nuclear power on the table.
We say nuclear power off the table.
They say single payer health insurance off the table.
We say single payer health insurance on the table.
You can just go down the list.
In any event, we'll be taking the Nader/Gonzalez progressive agenda to all 50 states in this critical election year.
Again, thank you for helping us send Emily and her crew to New Mexico.
They should have enough signatures in hand by the end of the month.
And we'll let you know soon when they get the required number to qualify for ballot access.
Without your donations, none of this would be possible.
Again, thank you for your ongoing generosity.
Please continue to help us spread the word.
Onward.
The Nader Team
---