Democrats are a Disaster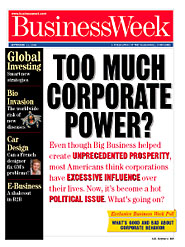 The Democrats are just another corporate party.
As such, they are a disaster for the American people.
If you had any lingering doubts about this, check out the front page of the Wall Street Journal yesterday.
The article is titled: Business Donors Bypass McCain, Democrats Rake In Cash From Industry by Brody Mullins.
Mullins reports that both Obama and Clinton have been cleaning McCain's clock "among business interests that give mainly to Republicans."
Of seven major industries that have been the most reliable Republican resources, McCain has raised $13.1 million through February, compared with $22.5 million for Obama and $27.1 million for Clinton, the Journal reported.
Now, ask yourself - if the Democrats were the party of the people, if they were truly going to make the corporations serve the American people, would the corporate executives be dumping millions into their campaigns?
No they would not.
Right now, the American people are subservient to the corporations and their puppet politicians in both parties.
Nader/Gonzalez would turn that around.
Under Nader/Gonzalez, the corporations would serve the people.
That's the message Nader/Gonzalez is taking to every state in the union in this 2008 election campaign.
Today, our volunteers will be turning in 2,000 signatures in Hawaii - more than three times the required number - to get Nader/Gonzalez on the ballot in the Aloha state.
One by one, we're working the states.
Right now we're focusing on Kansas.
In Kansas, we need to raise $15,000 to get Nader/Gonzalez on the ballot there.
In response to our initial appeal yesterday, 49 of you donated $3,790 - an average of $77 a donation.
So, already, we're a quarter of the way to our goal in Kansas.
Thank you.
Now we need another 110 of you to donate $100 or more each - and once we meet our goal, we'll give the marching orders to our folks in Kansas.
New Mexico - done.
Hawaii - plan on turning in our signatures later today.
Next up Kansas.
One by one, we'll give the voters of this country a chance to vote for a candidacy that puts people before corporations.
Thank you for your ongoing support.
Onward.
The Nader Team
PS: Remember you can comment on this e-mail and blog. Let us know your thoughts.
---