We Need Protest Money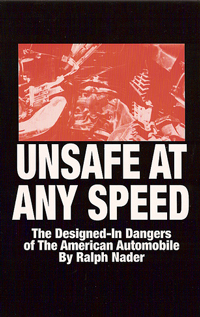 "All that is necessary for the triumph of evil is that good men do nothing." - Edmund Burke
The Nader/Gonzalez Presidential campaign is starting a special protest fund.
We will be protesting the corporate takeover of our democracy.
Your money will be used to take it to the streets.
The first protest will be held this Thursday at noon in front of the federal auto safety agency in Washington, D.C.
As you know, Ralph Nader came to prominence in the 1960s when he challenged the auto industry to make automobiles safer - to save lives.
Nader was instrumental in the creation of the federal auto safety agency - the National Highway Traffic Safety Administration (NHTSA).
But over the years, NHTSA has been taken over by the automobile companies.
In a few short weeks, the auto-industry dominated NHTSA will propose a roof crush safety rule that will preempt state common law.
If the preemption rule takes effect, victims of roof crush accidents will not be able to seek justice in state courts under the 200-year old product liability common law.
In 2005, 43,200 Americans were killed in motor vehicle crashes.
While less than five percent of those crashes were rollovers, those rollover crashes resulted in fully 25 percent of the fatalities - 10,816 in 2005.
The vast majority of rollover fatalities and injuries are the result of the roofs crushing down on the passengers - or when the roof crush shatters the side window glass, allowing deadly ejections to occur.
In addition to the almost 11,000 fatalities a year from roof crush accidents, in 2005 the total number of quadriplegics in motor vehicle collisions totaled 5,608 according to the National Spinal Cord Injury Statistical Center in Birmingham, Alabama.
A significant number of those are due to roof crush in rollovers.
The proposed roof crush standard is dangerously weak and lags behind existing, practical technology. Some automakers - Volvo, Saab, and Suburu, for example - produce models that offer greater protection in roof crush rollovers than the protection offered by this long-overdue anemic standard that NHTSA is about to issue.
In short, what NHTSA is doing is disgraceful.
It is siding with the automobile companies.
The Democrats and Republicans are in the pocket of the auto companies.
McCain/Clinton/Obama are not protesting this disgrace.
Only Nader/Gonzalez will stand in protest.
So, if you are in the Washington, D.C. area on Thursday, please join with us at the noon protest in front of the Department of Transportation building across from the Navy Yard Metro Stop (make sure you exit right - at the DOT exit, not left at the Nationals Ballpark exit.)
But whether you are in the area or not, please help us build up our protest fund.
Look at it as an investment in democracy.
Onward.
The Nader Team
---