Gas Protests Spread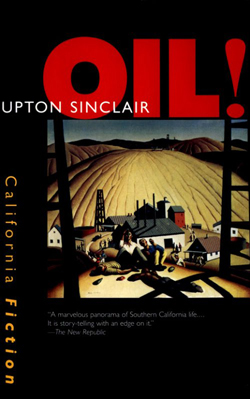 The first truth is that the liberty of a democracy is not safe if the people tolerate the growth of private power to a point where it becomes stronger than their democratic state itself. That, in its essence, is fascism - ownership of government by an individual, by a group, or by any other controlling private power.
- Franklin D. Roosevelt
Across the country, people are rising up to protest gasoline price gouging.
Last week, a man climbed atop a gas station roof in Valparaiso, Indiana.
And he began singing a protest song - Price Gouge'in.
Price Gouge'in
So we're shoutin
Who's Jackin up the cost of fuel?
I can't afford it
I'm bangin on my dashboard
I can't believe they think I'm a fool
In Tallahassee, Florida, Harold Burton, the owner of a door replacement business, began a protest at the state capitol building.
"I will be relentless on this pursuit and I will not give up," Burton told reporters. "There might only be a half dozen to a dozen people here right now, but I will do this every week until there is millions. I'm looking to get everybody off the couch and out, across America."
In Bristol, Tennessee, owners of local lawn care companies were out along the highway protesting.
They wanted local and state lawmakers to take action to bring down the price of gasoline.
Here in corporate occupied territory - aka our nation's capital - Nader/Gonzalez will be out in force tomorrow - Tuesday, May 20, 2007 at 12 noon.
We will be protesting at the headquarters of one of the nation's most powerful corporate lobbies - Big Oil.
Otherwise known as the American Petroleum Institute - 1220 L Street NW - at the corner of 13th and L Streets NW.
The action tomorrow is part of our ongoing series of protests against the corporate takeover of our democracy.
Unlike McCain/Clinton/Obama, Nader/Gonzalez would strictly regulate the oil industry - clamping down on speculators and enforcing the antitrust laws.
Nader/Gonzalez would also revoke federal subsidies to the oil industry, repeal multi-billion tax breaks and impose a windfall profits tax to fuel a transition to a solar energy economy.
If you are in the Washington, D.C. area tomorrow, please join with us.
If not, please contribute now to help put the Nader/Gonzalez people before corporations agenda on the ballots in states across America.
Thanks in part to your past generosity, our supporters are on the ground now actively petitioning in states all across the country - from Illinois to Arizona, Pennsylvania to California - to put Nader/Gonzalez on the ballot in November.
Unlike McCain/Clinton/Obama, our campaign will not cozy up to the corporations.
Our priority - people before corporations.
Onward.
The Nader Team
PS: We invite your comments to the blog.



---