Need Toll and Gas Money for Penn Turnpike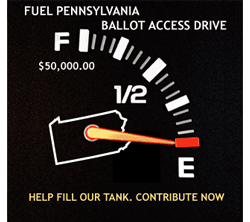 Some things should be public.
And some things should be private.
Our national road system was built with public funds.
And should remain in public hands.
But no.
Governor Ed Rendell has decided to turn over the 514-mile Pennsylvania Turnpike to a private foreign corporation.
Yesterday, Rendell said that a group of big banks (led by Citigroup) and foreign corporations (led by a Spanish company Abertis) had bid $12.8 billion for a 75-year lease on the turnpike.
The legislature should defeat this brazen giveaway.
"The public paid for the turnpike," Ralph Nader said yesterday. "The public should maintain operational control. The turnpike is a commonwealth asset for motorists and workers."
Starting this week, we'll be deploying our supporters throughout the Commonwealth to speak out against the Turnpike giveaway and to get Nader/Gonzalez on the ballot for November.
We need to collect 50,000 signatures by August 1 to get Nader/Gonzalez on the ballot there.
In a state where the Democratic Party worked overtime to keep us off in 2004.
This year, we won't take no for an answer.
Up and down the turnpike, gasoline is hovering around $4 a gallon.
The tolls are high - and about to go higher - if the privatization deal isn't defeated.
So, here's the plan.
We need 500 of you - our loyal supporters - to donate $100 each - so that we can raise the $50,000 necessary to get Nader/Gonzalez on the ballot in Pennsylvania.
Our troops will be traveling up and down the turnpike this summer (can you say Breezewood?) - and we'll need to fill up their tanks and pay their tolls.
So, please.
Keep the voice for public control alive and well in the Commonwealth of Pennsylvania.
Onward.
The Nader Team
PS: We invite your comments to the blog.


---