Over the Top in Arizona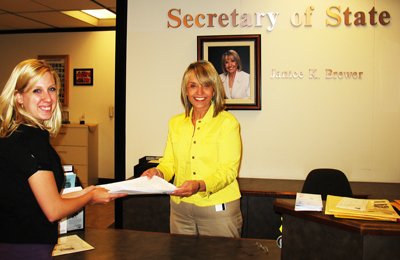 Shake and bake.
Rock and roll.
You did it.
You helped get way more than enough signatures to put Nader/Gonzalez on the ballot in Arizona.
State law says we need 21,759 valid signatures to get on.
Yesterday, our roadtrippers in the Grand Canyon state turned in more than 65,000.
Pictured here is our Arizona state coordinator Nicole Brooks, handing in the petitions to Arizona Secretary of State Janice Brewer. And here is the AP story reporting the turn in.
Barring some perverse calamity (read: hyper aggressive Democratic Party obstructionism in a slam dunk Republican state), Nader/Gonzalez will be on in John McCain's backyard.
Again, you did it.
Thank you.
Thank you.
Thank you.
Now, this is what we need.
We know that there are thousands of young people out there looking for summer work to be proud of.
We've got a job for you.
Get Nader/Gonzalez on the ballot in your state.
We've set up a clickable map.
Go to your state.
Get in touch with your state coordinator.
Tell that person that you want to gather signatures to get Nader/Gonzalez on the ballot in your state.
We need your help.
And we need it now.
Thank you all again.
Together, we are making a difference.
Onward.
The Nader Team

PS: We invite your comments to the blog.
---