You've Got Issues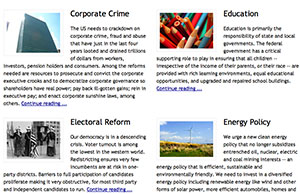 You've got issues.
But don't we all?
Yes we do.
And by popular demand.
Lo and behold.
The new, improved - and updated - Nader/Gonzalez issues page.
We've got issues.
And now you've got issues, too.
By the way, one of our favorite restaurants in D.C. is holding an online pre-election poll. Please vote now.
Onward
The Nader Team
PS: We invite your comments to the blog.
---