15 Dollars, 15 States, 15 Days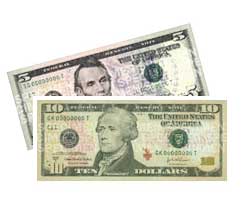 Drop fifteen dollars now on Nader/Gonzalez.
Why?
We now enter the most difficult and challenging ballot access stretch of the campaign.
We need to get on fifteen more states in fifteen days.
Last month, we laid out an ambitious ballot access plan.
Thanks to you, we have met stages one and two on time and on schedule.
Now, on to stage three — 15 more states, a total of 30 states, by August 10 — on our way to 45 states by September 15.
And we need to raise $100,000 by August 10 to fuel that drive and push us over the $2 million mark for the campaign.
Why is it important to put Ralph Nader on the ballot — and get him into the Presidential debates this fall?
For one, because Nader is the only candidate who would take the bombing of Iran "off the table."
As Obama made clear yesterday in Israel, he's keeping the military option against Iran "on the table."
As would McCain.
And if you doubt the seriousness of the situation, check out Israeli historian Benny Morris' recent Op-Ed in the New York Times in which he predicts that Israel will bomb Iran within four to seven months.
Cooler heads must prevail.
While McCain and Obama are fueling the Israeli drive to bomb Iran, even some of their own advisors are warning about the disastrous consequences of such a policy.
Yesterday, Brent Scowcroft told the Israelis to "calm down" and Obama advisor Zbigniew Brzezinski said the "all options on the table" talk was "counterproductive." Brzezinski said he would tell Israel "don't do it."
That's of course why we need the strong Nader/Gonzalez off the table voice in the debates.
And the chances improve as we continue to poll at or above five percent — see yesterday's NBC/WSJ poll here.
This was the third major poll putting us at five percent and above. (Remember, John Anderson and Ross Perot both got into Presidential debates because they met the then threshold of five percent.)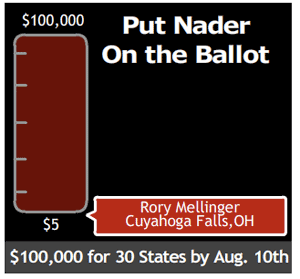 So, please, we need 1,000 of you, our loyal supporters, to hit the button now and contribute $15 each to kick off our drive to get to 30 states.
How will your generous donations help us on the ground?
Think about the more than 50 young at heart, dedicated road trippers working 10 and 12 hours, day after day — working through blazing hot summer afternoons, ducking under covered awnings during heavy thunderstorms, and bringing the Nader/Gonzalez message to thousands of voters state by state.
We need your $15 donation to help buy gas for their rental cars, feed them, and help pay for thousands of photo copies.
We need your $15 donation to help buy Greyhound bus tickets, Amtrak tickets and airplane tickets.
Of course, we're always looking for one or two angels willing to max out and cover the "filing fees" — like the one in West Virginia that will cost us $2,500.
How badly and urgently do we need your help?
Our New Hampshire crew needs to collect 4,000 signatures in 10 days — that's 400 a day.
In Maine, starting Saturday, our crew has 12 days to collect 5,000 signatures.
Our people in Ralph's home state of Connecticut need to collect more than 700 signatures a day over the next 13 days.
In South Dakota, we need 1,500 signatures 10 days.
In Wyoming, we need 2,000 more signatures in 10 days.
In Virginia, we need to collect 600 signatures a day over the next couple of weeks.
In the Buckeye State, our Ohio crew needs to collect 11,000 signatures in the next couple of weeks — 350 to 400 a day.
In short, our backs are up against the wall.
And the best way you can help get us on the ballot is to donate $15 now.
Help us lift off toward the debates in November.
Thank you for your generous support.
Together, we are shaking it up.
Onward
The Nader Team
---