Only Two Days Left in Contest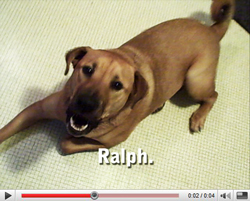 Only two days left in our Win Dinner with Ralph E-mail Contest.
Many thousands of you have signed on.
And a select few of you are competing for the grand prize of a dinner with Ralph.
This morning, Ramy Mousa from Baton Rouge, Louisiana tops the leader board with 263 friends that have joined our network.
But many more thousands of you haven't even played.
So, we'd like you to try it.
You bring us the e-mails of your friends, neighbors and countrymen.
We feed them up-to-the minute breaking news about the two corporate candidates - Obama and McCain - and the growing challenge by Nader and Gonzalez.
Nader/Gonzalez is an unconventional campaign, in many ways.
One, there is no national convention.
We're running as independents.
Two, we have a broad range of support.
Take Iggy Pup here, for example.
We asked Iggy.
Iggy, who ya going vote for?
Iggy, being on our e-mail list, knew that Nader/Gonzalez would shift the power from the corporations back into the hands of the people.
Check out Iggy's answer in this just released Nader/Gonzalez video.
But it's not enough for Iggy to be plugged in.
Or for you to be plugged in.
We have to spread the word far and wide.
And one way to do it is to build our network of supporters.
Just bring us five new e-mails, and you can be part of a special invite-only conference phone call with Ralph Nader and Matt Gonzalez.

But you have to get going.
The contest ends the day after tomorrow - Thursday August 7 - at 11:59 PM on the West coast.
There are other great prizes.
But most importantly, you'll be helping us spread the word.
About the candidacy that will stand up to the two corporate parties in November.
So, help us out - find five people right now that will join our network of supporters.
Click here to get started.
If you are already in the game, thank you.
You can track your ranking on our leader board.
Find more friends and family and colleagues, and watch yourself move on up.
We'll be announcing the winners in a week or so.
Thank you for joining.
Together, we are making a difference.
Onward.
The Nader Team
PS: We invite your comments to the blog.
---