Two Books from Ralph Nader to You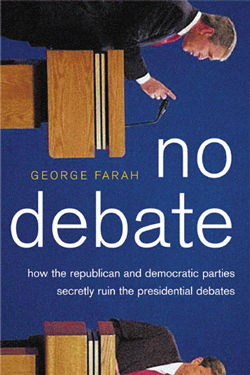 It was a breakthrough day with the mainstream media.
Yesterday morning, Ralph Nader met with a group of reporters at a breakfast meeting sponsored by the Christian Science Monitor.
The meeting resulted in a slew of articles - including those that appeared in the Christian Science Monitor, USA Today, the Cleveland Plain Dealer, the Miami Herald, the National Journal and US News and World Report.
One of the points that Ralph made at the meeting yesterday was that if he is given the opportunity to debate the two corporate candidates - McCain and Obama - it will become a three-way race.
Yes it will.
But right now, the debates are controlled by the Commission on Presidential Debates (CPD) - which is controlled by the two major parties and the corporations that fund them.
But fear not.
We'll be campaigning over the next couple of weeks to bust up the corporate hammerlock on free speech in this election year and to get Ralph and Matt into the debates.
To first step is to create a viable candidacy.
And the candidacy can't be viable if we're not on enough state ballots.
As the Miami Herald headline put it today: Nader Sets Goal to be on Most Ballots.
Our goal: 45 states.
And thanks to you, we're on track - on in 28 now, 30 by Sunday, 45 by September 20.
But right now, we need your help to fund this massive, nationwide ballot access drive.
We need your help to meet our target of $100,000 by Sunday, August 10.
We're at over $61,000 with only four days to go.
So, here's the plan.
We need 390 of you - our loyal supporters - to donate $100 each now.
And in return, we'll ship you No Debate, the classic expose of the Commission on Presidential Debates.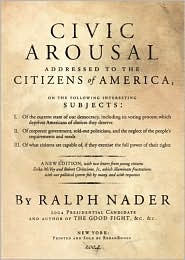 And we'll also send you an autographed copy of Ralph Nader's 49-page political manifesto - Civic Arousal.
To help us bust open the debates this year, you'll need these two books - No Debate for the rock solid expose and criticism of the corporate-controlled debates.
And Civic Arousal for a healthy dose of homegrown Ralph inspiration.
(In Civic Arousal, Ralph reports the following: When we were youngsters, our father would ask us provocative questions. One day he asked - What is the most powerful, event-producing force in the world? We guessed and guessed. His answer: Apathy. What? Yes, he said. Apathy. Because huge numbers of apathetic citizens, or victims, allow bad guys to create all kinds of problems on the ground - from dictatorial regimes, to repressed economic conditions, to health and safety hazards, to corruption, to wars.)
If you already have these books, get yourself another set.
They make a great gift for young and old alike in this election season.
And you'll help put Nader/Gonzalez on the ballot.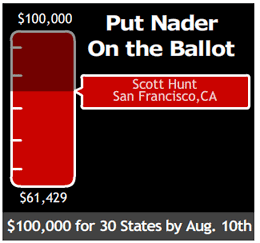 So, do it now.
Drop that $100 spot on Nader/Gonzalez.
Don't delay.
We need to get 'er done this weekend.
(Only one set of books per donation of $100 or more. If you would like two sets, please donate twice. Three sets, donate three times.)
Help push us past our $100,000 goal.
And get these two classics now.
Thank you.
Together, we will open up the debates.
Onward
The Nader Team
PS: This offer expires Sunday August 10 at 11:59 p.m.

PPS: While you're waiting for your books to arrive, here are some new videos to check out:
– Ralph at the Christian Science Monitor breakfast
– Am I Losing You (Ralph on subprime mortgages)
---