Daily Audio Message from Ralph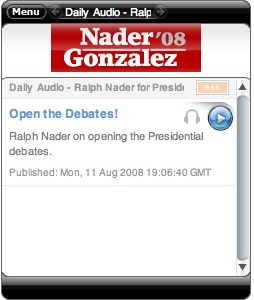 We are launching a new feature on votenader.org.
It's a daily audio message from Ralph Nader.
Anyone who has traveled with Ralph marvels at his encyclopedic knowledge of the workings, failings, and potential of our democracy, from the marketplace to the workplace to liaisons between corporations and government to the courageous stands politicians used to take once in a while.
From now until Election Day, five days a week, we will feature new, short audio recordings from Ralph.
It starts with a message on opening the debates.
You can download the podcast, or listen at your computer.
Unlike the corporate candidates who stick to a narrow message until their handlers allow them to take a half-step, Ralph expresses himself freely on issues that affect you each day.
So, listen in.
It'll be like traveling the road with Ralph.
Tell your friends about it.
And look for future recordings from Matt Gonzalez as well.
Thanks for checking in.
Onward to November.
The Nader Team
PS: We invite your comments to the blog.
---