Denver, Minneapolis, Here We Come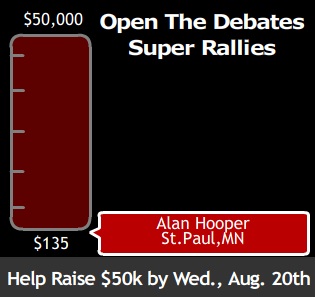 Are you ready to rumble?
If yes, make a contribution now to help fund our protest rallies in Denver (August 27) and Minneapolis (September 4).
Thousands of Americans will be in Denver and Minneapolis to protest the pro-war corporate controlled Democrats and Republicans.
Nader/Gonzalez has rented arenas in both cities to rally Americans opposed to the Iraq and Afghanistan wars and corporate control over all aspects of our lives.
And to lay down one simple demand - open the Presidential debates.
As Ralph put it the other day, if we are allowed into the debates - and reach tens of millions of Americans with our message - it will be a three-way race.
Thanks to your help, we are on track to be on 45 states ballots by September 20 (Currently, we are on 31.)
If we get into the debates, our six percent in the polls will jump to 15 percent or more.
And the American people will sense a three-way race.
Then everything is possible.
But first, we have to pay for our up front costs in Denver and Minneapolis.
And we need to raise $50,000 before August 20.
To pay for sound, lights, office, arena, phone lines, staff, lodging, 100,000 handbills.
We've taken some of our best road-trippers and flown them into Denver to promote the rally. We have also opened an office in downtown Denver. (See today's Denver Post article here.)
Our staff is lining everything up to make them memorable rallies.
But we've got bills to pay now.
So, drop $10, $20, $50, $100 or whatever you can — give to your heart's content — but not more than the legal limit of $4,600.

Then watch your name go up in lights on our new super rallies widget.
And see us move toward our goal of $50,000.
Let's crank it up.
And get it done.
Thank you in advance.
See you in Denver and Minneapolis.
Onward to November
The Nader Team
PS: Here's our most recent Open the Debates video. Please pass it around to friends and family. Thanks.
PPS: Ralph will be on NPR's Talk of the Nation between 2 p.m. and 3 p.m. EST today.
---