Kilmer, Sheehan, Morello with Nader in Denver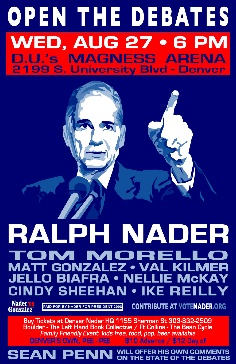 As late as yesterday, we didn't think we had a chance.
For the first time in this campaign, we were at serious risk of missing a self-imposed financial goal.
Then, yesterday, you came through.
And now, we're back in it.
Now, we're just shy of $42,000.
And we have a chance to hit our goal of $50,000 by 11:59 pm tonight.
But we're going to have to bust a gut to get there.


All out.
All day.
All night.
So, we are calling on 900 of you — our most loyal supporters — to donate $10 each now to push us over the top.
(900 times $10 equals $9,000, right?)
And for every $10 contribution you donate today, we will give free admission to a needy student who wants to come to hear Ralph Nader at our Open the Debates Super Rally at the University of Denver's Magness Arena. ($10 in advance, $12 at the door.)
Ralph will be joined by his running mate Matt Gonzalez.
And — breaking news — a star studded line-up will join Ralph and Matt in a call to open up the Presidential debates.
Featuring — Val Kilmer, Cindy Sheehan and Rage Against the Machine's Tom Morello, Jello Biafra, Nellie McKay, and Ike Reilly.
So, please — give a student a chance to attend this historic event.
Donate $10 now — or whatever you can afford — and send a student to raise the banner in Denver — Open the Presidential Debates, More Voices, More Choices.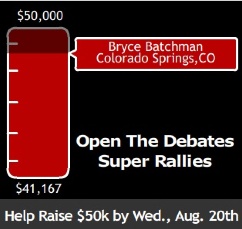 Keep an eye on our widget throughout the day.
Watch your name go up in lights.
And see if we blast through our goal.
And let's get it done.
Together, we will not be denied.
Onward.
The Nader Team.
PS: Last chance to get our two DVD Sicko/Awake from Your Slumber package. If you donate $100 or more by tomorrow night, we will send you the best argument yet made for single payer Medicare for all health insurance — the DVD Sicko. Plus, we'll send Awake from Your Slumber — the DVD starring Ralph Nader and Patti Smith — autographed by Ralph.


---