Free Speech TV to Carry Denver "Open the Debates" Rally Live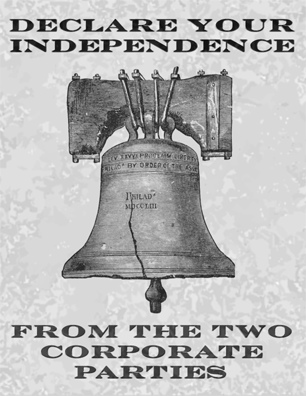 Next Wednesday, Denver is going to be rockin.
Thousands will be gathered at the University of Denver Magness arena to protest the corporate lockdown on the Presidential debates.
Sean Penn, Val Kilmer, Cindy Sheehan, Tom Morello, Jello Biafra and others will join Ralph Nader and Matt Gonzalez.
Demanding an end to the corporate control over the Presidential debates.


So, if there is any chance you can get to Denver Wednesday, you can make a donation to reserve your ticket here.
If you can't get to Denver, no problem.
Free Speech TV will be streaming the event live on the Internet. (Wednesday, August 27, 7 p.m. Mountain time, 9 p.m. Eastern.)
Just click here to watch.
Also, the Free Speech TV will be broadcasting the event live on Dish Network Channel 9415.
And many local public access channels will be carrying the Free Speech TV feed.
(If your public access channel doesn't carry it, call them and ask them to do so. Click here for a list of public access channels.)
Anyway, it's going to be an historic event — protesting the corporate control over our politics — in the midst of the corporate Democratic spectacle.
So, join us in Denver if you can.
If not, invite your friends over, and dial up the live Internet feed — or watch on television via satellite or on your public access channel.
Onward to November.
The Nader Team
---