Nader Flix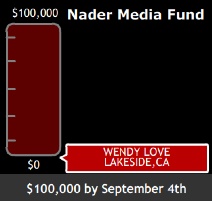 As a big part of the homestretch push to Election Day, we are starting a new media fund drive — $100,000 in ten days — by the end of the Republican convention.
We're cruising. You've helped get us on 37 state ballots thus far (more to come soon) and Nader/Gonzalez has been at 5% or above in several national polls. But the big bucks news media has responded with a deep freeze-out. So, it's up to us to break through and get our own message out.
Enter the Nader Media Fund.
We aren't tied down by narrow stylistic constraints. We don't worry about offending corporate America. We just need to get much busier creating, filming, editing, and distributing.
You can help us create high-impact media that will get the Nader/Gonzalez campaign message out there — on television, radio, and the Web. Your contributions will fund radio ads, our creative campaigns will garner free television media (as our "puppet" debate did in 2004), and we will put high quality content in your hands for you to show to your friends and family.
Donate $100 to Nader/Gonzalez now and we will mail to you three 30-45 minute DVDs over the next month with exclusive behind-the-scenes footage hot out of the editing room — "Nader Flix." First, the Denver Super Rally, then the Minneapolis Super Rally, then a special debate project that we are creating.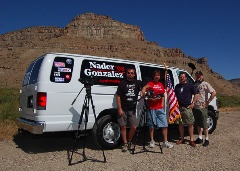 Our crew of professional filmmakers includes people from the pinnacle of the business. The photo here shows them in the middle of their drive from Los Angeles to Denver yesterday. They need tape and access to top-notch gear, lodging and transportation. They need your support.

Make our own media. It's what we've got to do. We need your help to make it happen.
Onward to November.
(The 3-DVDs for $100 offer is good until September 4, 2008, 11:59 p.m.).
---