D-Day Denver: Nader Protest Rally Tonight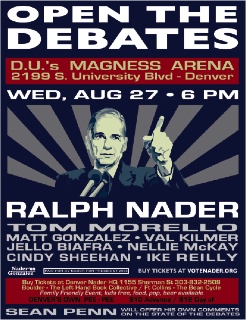 D-Day.
Denver tonight 6 p.m.
University of Denver Magness Arena.
Sean Penn, Tom Morello, Cindy Sheehan, Jello Biafra, Ralph Nader and Matt Gonzalez will be there.
Standing up to the corporate two-party controlled debate commission.
Calling for an opening up of the Presidential debates.


If you are in the area, see you at the event.
If you know people in the area, call them, text them, e-mail them — and give them the details.
Free Speech TV will be streaming the event live on the Internet. (Wednesday, August 27, 7 p.m. Mountain time, 9 p.m. Eastern.)
Just click here to watch.
Also, Free Speech TV will be broadcasting the event live on Dish Network Channel 9415.
If you are home watching convention coverage on cable, watch for Ralph.
He'll be in the DNC belly of the beast at the Pepsi Center today.
He'll be on Fox TV with Neil Cavuto in this afternoon at about 4 p.m.
And MSNBC with Dan Abrams tomorrow morning at about 10 a.m.
Other mainstream media interviews are being nailed down as we speak.
Stay tuned for more details.
The bottom line is this.
The conventions are supposed to be about democracy.
But in fact, they're two big corporate parties.
Talk about corporate crime and corporate power, and you are drummed out of the building.
Talk the happy corporate talk, and they invite you in for a drink.
Thank you Ralph Nader for having the guts to stand up.
For the American people.
Against the corporate takeover of our democracy.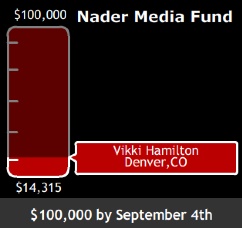 Stand with Ralph today.
If you are in Denver, come on down and join with us at the Magness Arena tonight at 6 p.m.
If you are not in Denver, give whatever you can afford — $10, $20, $50, $100 — to help defray the costs of tonight's event. (Renting the arena, sound, lights, stage hands, video crew and equipment, flying in road trippers, printing of 100,000 fliers — you get the picture.)
By the way, great start on the fundraising drive — we're at close to $15,000 after just two days. But we have to hit $100,000 by September 4. So, let's get 'er cranked.
Thank you for your ongoing support.
With your help, tonight, we will shake it up.
Onward to November.
The Nader Team
PS: Remember, if you donate $100 or more, we'll send you three DVDs — the Denver rally, the Minneapolis rally, and a special debate DVD. (Three DVD offer ends September 4 at 11:59 p.m.)
---