Ralph Nader Takes Questions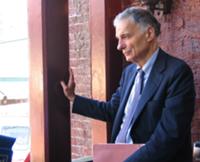 Karen Kilroy of the Nader/Gonzalez web team is posting video of recent Question & Answer sessions at the "Open the Debates" rallies in Minneapolis and Columbus, Ohio.

You'll find this all new and thought-provoking footage in our Issues Playlist at YouTube.

Bookmark the page and keep checking back, because there's more video on the way.

Also available online is a transcript of Ralph's remarks at the August 27 Denver Super Rally. Our sincere thanks to Swan's Commentary and Jan Baughman, co-editor, who prepared the transcript.
And our thanks to you. Your contributions are making it possible for us to bring America the coverage that the corporate media continues to ignore.
Onward to November!

The Web Team


---