Limited Edition Nader '08 Buffalo Shirts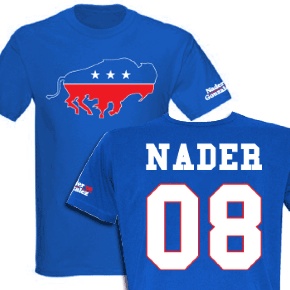 Before the NFL season kicked off three weeks ago, we here at the Nader Team decided that our mascot was going to be the American Buffalo.
Strong.
Proud.
Native American.
And we designed a campaign shirt (pictured here) with the buffalo on the front.
And Nader 08 on the back.
Then, low and behold, we watched as the Buffalo Bills started their season 3 and 0.
And we said to ourselves — this must have meaning.
We choose the Buffalo as our mascot.
The Buffalo Bills go 3 and 0.
And we're looking for a three way Presidential race.
So today, we're launching an exclusive offer for you — our loyal supporters.
For a donation of $100 to our campaign, we will ship to you the Official Nader 08 Heavyweight 100 Percent Cotton Buffalo Campaign Shirt.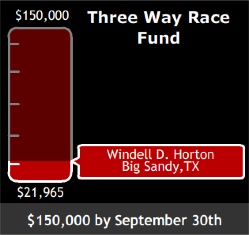 Signed by the man himself — Ralph Nader.
The Nader Buffalo shirts come in all men's and women's sizes.
(To get the signed Buffalo t-shirt, you must choose your size and make the purchase from our merchandise section here.)

It's a limited edition offer.
The Nader Buffalo Shirts are destined to become a collector's item.
And we'll ship you this beautiful, heavyweight cotton t-shirt, so you can wear it during the stretch drive to the election.
Say it loud.
Say it proud.
Ralph Nader in 2008.
Onward to November.
The Nader Team


---