Obama Girl Stops by the Office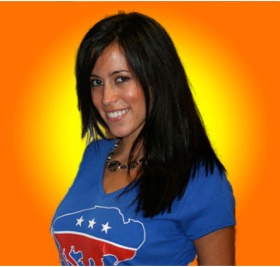 What's a Nader fan to wear during the last month of the campaign?
We suggest our heavyweight 100 percent cotton Buffalo t-shirt.
With the Buffalo on the front.
And Nader 08 on the back.
So, if you buy one now, Ralph will sign it for you.

It's destined to become a collector's item.
Also, in our autographed merchandise store, you'll find other items autographed by Ralph — including the Unreasonable Man DVD, the Denver Super Rally DVD, and the classic collection of Ralph's columns titled In Pursuit of Justice.
Wait a second.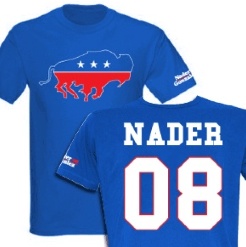 Was that Obama girl wearing a Nader 08 Buffalo t-shirt?
Yes, that's her.
In case you didn't know it, Obama Girl stopped by the office the other day.
And she was taken by our Buffalo t-shirt.
So, get on the Nader/Gonzalez bus.
Buy a Nader 08 Buffalo t-shirt now.
We're in the last three days of our Three Way Race Fundraising drive.
And we need your help now to push it over $110,000 by the end of tonight.
So we have a shot to make our goal of $150,000 by Tuesday midnight.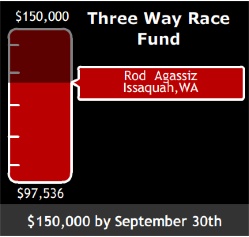 Or buy to your hearts content at our signed merchandise store.

And after you're done buying.
Check out the video starring Ralph Nader, Jesse Ventura and Obama Girl.

The video is getting rave reviews and 125,000 YouTube views since it launched three days ago.
Onward to November
The Nader Team
---