Nader on Blitzer, O'Reilly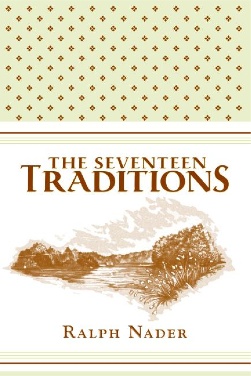 Ralph Nader is on TV tonight!
Ralph will be on CNN's Late Edition with Wolf Blizter at about 5 p.m. EST this afternoon.
And he'll be on Fox's The O'Reilly Factor with Bill O'Reilly at about 8:25 p.m. EST tonight.
Hope you get a chance to watch.
And remember, this week we're offering a limited number of Ralph's most recent book — The Seventeen Traditions. (HarperCollins, 2007).

It's a 150-page hard cover classic — detailing the traditions Ralph grew up with in his home town of Winsted, Connecticut.
For a donation of $100 or more, we'll ship you this Nader classic — signed by the man himself — Ralph Nader.
(This offer ends Sunday October 12, 2008 at 11:59 p.m.)

So, donate now.

By the way, the Nader/Gonzalez video team was with Ralph in Winsted, Connecticut last week.
And they put together this neat little peek of Ralph in his hometown.
Take a look.
Pass it around.
And then pick up a copy of The Seventeen Traditions.

Thank you for your ongoing support.
Onward to November

The Nader Team
---