Nader v. Obama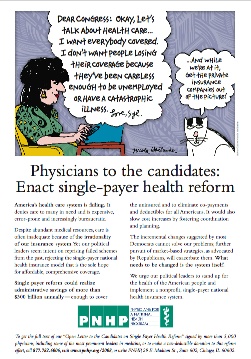 Donate $3 to Nader/Gonzalez now.

Why?
Well, on three key issues last night — energy, health insurance, corporate crime — Obama stood with the corporations against the interests of the American people.
Compare Nader to Obama.
Last night, McCain challenged Obama.
Tell me one time you have stood up to the leaders of your party, McCain said.
Obama couldn't name one time when he stood up to the corporations that control his party.
So, instead he named a couple of times when he stood with the corporations.
And against the interests of the American people.
I voted for tort reform, Obama said.
Wow!
Brave of you Barack.
You stood with the National Association of Manufacturers against injured people.
I support clean coal technology, Obama said.
Wow Barack, you stood with the polluting coal industry against people who suffer the consequences.
When McCain accused Obama of supporting a single payer, Canadian style national health insurance system, Obama said he didn't.
And he doesn't.
Despite the fact that a majority of doctors, nurses and the American people want it.
On national health insurance, Obama stands with the insurance industry and against the American people who are demanding single payer.
Over 5,000 U.S. physicians have signed an open letter calling on the candidates for president and Congress "to stand up for the health of the American people and implement a nonprofit, single-payer national health insurance system." (Here's the ad that ran in the New Yorker magazine.)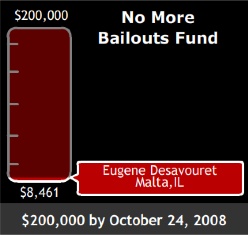 Obama says no.
McCain says no.
Nader/Gonzalez says yes.
Yes to single payer.
Yes to solar and no to coal.
Yes to protecting the American people from corporate recklessness and crime, no to tort deform.
So, donate $3 to the candidacy that is not on the debate stage.

But that is right on the issues.
Nader/Gonzalez.
Today, while Obama fronts for his corporate donors, Ralph Nader, Matt Gonzalez and the Nader Team will be on Wall Street protesting corporate America's sustained orgy of excess and reckless behavior.
Nader/Gonzalez continues to stand with the people.
Against the corporate criminals and their candidates in the two major parties.

Onward to November.
The Nader Team

PS: If you donate $100 more now, we will ship to you our corporate crime package. The package includes two books and a DVD: Gangster Capitalism by Michael Woodiwiss, The Cheating of America by Charles Lewis, Bill Allison and the Center for Public Integrity, and a DVD that we are making of today's rally on Wall Street. (This offer ends October 24, 2008 at 11:59 p.m.)
---