Nader on C-Span Tonight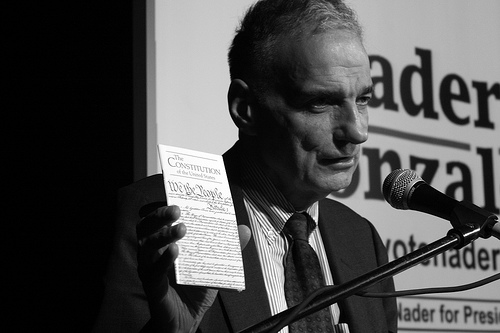 C-Span will show the Nader/Gonzalez Wall Street rally in its entirety tonight at 10:13 p.m.
And if you want to stay up late, C-Span will play it again at 2:07 a.m.
This will include great speeches by Ralph Nader and Matt Gonzalez — among others.
If you have cable, watch on C-Span One.
If not, you can watch on-line here.

If you like what you see, remember — the Nader/Gonzalez cameras were there also. And we're making a great DVD of the Wall Street rally.
For a donation of $100 or more now to our campaign, we will send you the Wall Street rally DVD — plus two great books about corporate power in America — Gangster Capitalism by Michael Woodiwiss and The Cheating of America by Charles Lewis, Bill Allison and the Center for Public Integrity. (This offer ends October 24, 2008 at 11:59 p.m.)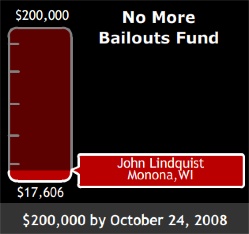 Also, you might have heard that there were plans to have a third party debate this coming Sunday in New York.
It was a good idea, with good energy behind it, but unfortunately it apparently is not going to happen this Sunday.
We send our thanks and gratitude to those who made the effort. It took a lot of logistics, planning and coordination.
But in the end, with the timeline and candidates' schedules, it just didn't work out.
We're still open to the potential for a debate that includes third party candidates with a viable chance of winning 270 electoral votes.

Onward to November.
The Nader Team
---