Buffalo T-Shirt Sale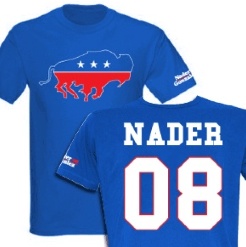 For over 200 years we have only been able to root for the donkey and the elephant.
Nader/Gonzalez has a true American symbol as our campaign mascot: the buffalo.
The buffalo is powerful, persistent and forward-looking.

We want people wearing Buffalo T-Shirts all over the country so we have decided to launch the Nader Buffalo T-Shirt Sale.
Donate $20 now to Nader/Gonzalez.
And on Monday, we will ship to you our heavy-duty cotton Nader Buffalo T-Shirt (in men's or women's style).

Just yesterday, we received 600 of these beautiful Buffalo T-Shirts.
With our mascot, the buffalo, on the front.
And Nader 08 on the back.
We need all Nader fans everywhere to wear this t-shirt — all across the country — during the next two weeks to help give our campaign visibility.
So, buy a Buffalo T-Shirt now — men's or women's.
And buy one for a friend — man or woman.
We'd like to sell all 600 this weekend.
So you can all wear them in the last two weeks before the election.
Plus, they will be a collector's item after November 4th.
Across the country, we have shown the Buffalo T-Shirt to enthusiastic applause from raucous crowds. Just last night — amid a packed crowd in Buffalo, New York — NBC national news caught wind of Nader/Gonzalez's momentum and will be doing a story on our campaign that will likely include these t-shirts.

So, buy your t-shirts now (men's or women's).
Let's get it done.

Onward.
The Nader Team
---