Nader on NBC Nightly News with Brian Williams Tonight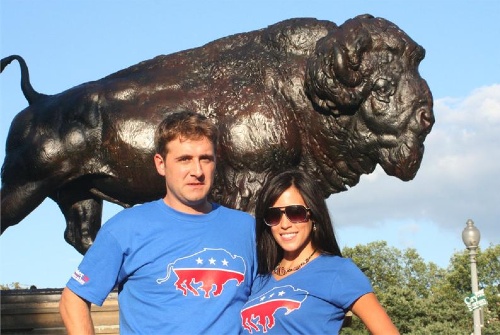 Ralph Nader is at 5 percent in The Show Me State — Missouri.
And he's moving on up.
That's according to the most recent CNN/Time Missouri poll.
The poll shows Nader at 5 percent last week, up from 3 percent at the end of September.
We believe that this shows that with just a little bit of visibility — we have an active Nader/Gonzalez group in Missouri — Ralph will move up in the polls.
That's why we're encouraging all of our supporters in Missouri and around the country to buy and wear — during the last days of the campaign — our hot selling heavy duty 100 percent cotton Nader '08 Buffalo T-Shirts (men's or women's).
(Pictured here — Nader/Gonzalez road warrior Matt Zawisky and the Obama Girl, both wearing Nader 08 Buffalo T-Shirts in front of our favorite mascot in downtown DC last month.)
We sold out of our first stash of 600 in less than 24 hours this weekend.
So we ordered another 1,000.
And in less than 12 hours, we've sold over 250.
There are only 750 left.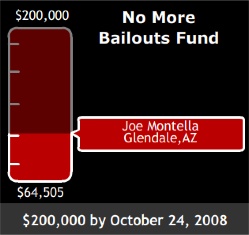 At our current sale rate, we'll be sold out by Thursday night.
So if you don't have one yet, buy one now (men's or women's), before it's too late.

And wear it with pride.
At $30 a shirt (men's or women's), it's a deal.

If you have one already, buy one for a friend, relative or colleague (man or woman).

In case you haven't heard yet, Ralph will be profiled on the NBC Nightly News with Brian Williams tonight.
Hope you get a chance to watch.
And just for fun, check out our spooky Nader/Gonzalez Halloween video.

We're firing on all cylinders.
Mainstream media.
On the ground get out the vote drive.
Nader/Gonzalez videos.
And Nader Buffalo T-Shirt drive.

It's a sprint to the finish line.

Onward to November.
The Nader Team

PS: If you donate $100 more now, we will ship to you our corporate crime package. The package includes two books and a DVD: Gangster Capitalism by Michael Woodiwiss, The Cheating of America by Charles Lewis, Bill Allison and the Center for Public Integrity, and a DVD of our Wall Street rally. (This offer ends October 24, 2008 at 11:59 p.m.)
---