Ralph's 50th State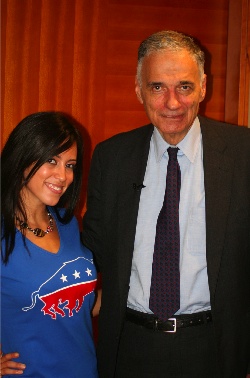 Ralph Nader today is campaigning in Idaho — the 49th state he has campaigned in this year.
Tomorrow, Ralph will be in Montana — fulfilling his pledge to you to campaign in all fifty states this year.
Let's send Ralph a big thank you and drive home our second to last fundraising widget of the year.
Thanks to you, we're halfway home.
Just hit $100,000.
Need to drive it to $200,000 by Friday night.
Here is what you can do to drive it home now.
Buy a Nader 08 Buffalo T-Shirt (men's or women's).

(Here's Ralph with Obama Girl wearing her Nader Buffalo T-Shirt.)
We have only 600 left.
At the rate they are selling, they will be gone by Thursday night.
So, if you haven't bought one yet, buy one now (men's or women's).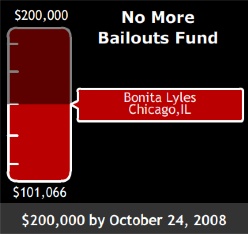 Thing you can do number two:
Donate $21 to help fund Ralph's race across Massachusetts on Saturday.

As we mentioned earlier today, Ralph will be campaigning in 21 towns and cities across the Commonwealth in one day.
It'll be one for the record books.
Donate now to help defray the costs of this historic campaign trip.

And remember, if you give $100 or more now, we'll ship to you our No More Bailouts Package. The package includes two books and a DVD: Gangster Capitalism by Michael Woodiwiss, The Cheating of America by Charles Lewis, Bill Allison and the Center for Public Integrity, and a DVD of our Wall Street rally. (This offer ends October 24, 2008 at 11:59 p.m.)
Let's get it done.

Onward to November
The Nader Team
---