Help Ralph Get Into Guinness Book of Records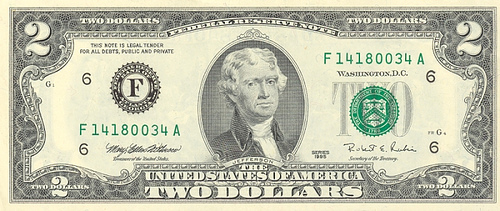 Drop a $2 bill on Nader/Gonzalez.
C-Span 2 is going to air the Third Party Debate live tonight at 9 p.m. EST.
Former New York Times reporter Chris Hedges is going to moderate.
If you are in the Washington, D.C. area, please come on down to the Mayflower Hotel and watch live and in person.
Also, we consider the $2 bill a good luck charm.
And we're going to need all the luck we can get on Saturday.
Why?
Because it's now official.
Our national media coordinator just got off a long distance phone call to the UK with the head of the Guinness Book of World Records.
He just confirmed it.
With your help, Ralph will make it into the Guinness record book this Saturday.
Ralph will campaign in 21 cities and towns across Massachusetts in one day.
Guinness says that if hits 15, he'll be in the record books — most campaign speeches in a 24-hour period.
But we're shooting for 21.
Each speech will last ten minutes and will tackle a separate issue — single payer, poverty, Palestine — you get the idea.
On Saturday, Ralph is scheduled to deliver 315 minutes of speeches — and we'll be driving 365 miles.
In one day.
Events are now scheduled in the following towns:
Boston, Cambridge, Southborough, Somerville, Medford, Arlington, Lexington, Concord, Waltham, Watertown, Newton, Worcester, Auburn, Springfield, Chicopee, Holyoke, Northampton, West Springfield, Westfield, Stockbridge and Sheffield.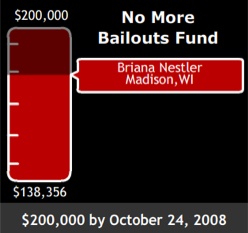 If you are in the Massachusetts area, come on out and meet Ralph and the Nader Road Crew as we zip across the Commonwealth. (For complete schedule, including times of each stop go to votenader.org/marathon)
If not, donate $2, or $20, or whatever you can afford now to fund Nader's Mass Marathon.

We need to rent the cars and vans, pay the advance teams, feed the hard working Nader's Raiders road crew, rent the multiple GPS systems.

And we need to meet our latest fundraising goal of $200,000 by tomorrow midnight.
So, donate now and then watch the widget zoom to the goal line.

And deliver Ralph into the Guinness book.
Onward to November
The Nader Team
PS: If you donate $100 or more now, we will ship to you our corporate crime package. The package includes two books and a DVD: Gangster Capitalism by Michael Woodiwiss, The Cheating of America by Charles Lewis, Bill Allison and the Center for Public Integrity, and a DVD of our Wall Street rally. (This offer ends October 24, 2008 at 11:59 p.m.)
---