Brother, Can You Spare a Dime?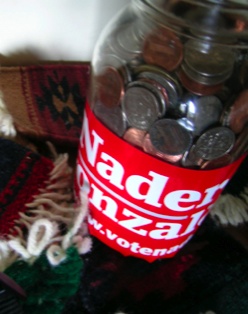 Brother, can you spare a dime?
We get ideas every day for fundraising.
Here's one we liked a lot.
It is estimated that the average household has an average of $90 in spare coins lying around the house.
In bottles.
In sofas.
On the floor.
So, here's something you can do now for a better and more just America.
Go around and collect the spare coins lying around your house.
Take your coins to the local supermarket or bank — where they have coin counting machines.
And send that amount to Nader/Gonzalez.

Can you think of a better use of spare change?
We can't.
So donate that $90, or $9 — whatever you estimate your spare change total to be.

In this last five days before the election, we're in dire need.
We're over $180,000 away from meeting our goal of $4 million by November 4.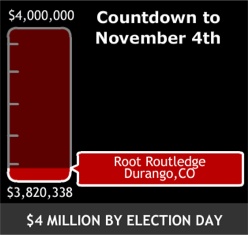 We haven't missed a fundraising goal all year.
And we surely don't plan on missing our last and most important one.
So, please, whatever spare change you can afford.

We could use.
So, go empty those bottles.
And invest in America's future.

Send it along to Nader/Gonzalez.

Onward to November and a brighter future.
The Nader Team
PS: Remember, if you donate $100 or more, we will ship to you the hard cover 40th Anniversary edition of Unsafe at Any Speed — Ralph's historic expose of the American automobile industry — autographed by the man himself. It was the book that launched the American consumer movement and saved hundreds of thousands of lives. This autographed edition is bound to become a rare collector's item after the election. So, get it now. Only a limited number left. (This book offer ends November 4, 2008 at 11:59 p.m.)
---