Freak Out the Corporate State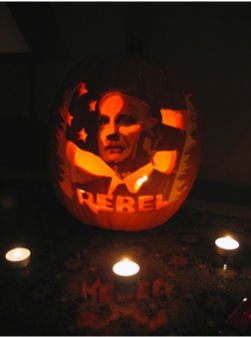 Happy Halloween.
Today, you can help us Freak Out the Corporate State.
How?
Donate $4 to Nader/Gonzalez now.

Why?
Ralph Nader is pulling four percent among registered voters in the latest CNN poll in battleground states.
Four percent in Arizona.
Four percent in Nevada.
Four percent in Ohio.
Four percent in Pennsylvania.
Let's say the predictions are right and 130 million Americans vote.
And let's say the four percent holds up.
That's 5 million voters for the Nader/Gonzalez shift the power agenda.
From the corporations back into the hands of the people.
That's enough to freak out the corporate state.
Even the thought of that this Halloween is enough to freak them out.
But to get there, we need to hit our last fundraising goal of $4 million by election day.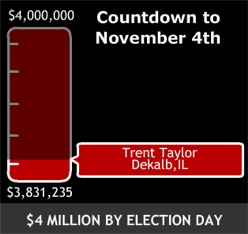 And we're $170,000 away.
So, today, Halloween, 2008, let's freak out the corporate state.
We need 4,000 of you — our loyal supporters — to hit that there donation button.

We're driving toward a winning election day.
When we send a strong message.
We're here.
We're near.
We're not going anywhere.
Get used to it.
Onward to November and beyond.
The Nader Team
PS: Remember, if you donate $100 or more, we will ship to you the hard cover 40th Anniversary edition of Unsafe at Any Speed — Ralph's historic expose of the American automobile industry — autographed by the man himself. It was the book that launched the American consumer movement and saved hundreds of thousands of lives. This autographed edition is bound to become a rare collector's item after the election. So, get it now. Only a limited number left. (This book offer ends November 4, 2008 at 11:59 p.m.)
PPS: Look for Ralph this morning on CNN Morning America.
---