Breaking Point: Where's Your Candidate?

My name is Pat and I am a resident in Nutley, N.J. Today, I took my ten year old son to the Nutley Public Library, where a mock election was being held for all elementary school students. Over the last two weeks, flyers came home with my son's homework about the event. The flyer promoted the event to kids and told them they could have their photos taken with their favorite candidate.

My son, who is aware of my support for Mr. Nader, said me "Dad, I bet they don't have a picture of Mr. Nader there at the library." I agreed with him and he deceided he wanted to participate in the mock election on November first.

We left for the library with our camera in hope of seeing Mr. Nader. Upon arrival, we were directed to the Stockton Room, where the election was being held. As we entered the room, two life sized cardboard cutouts of Sen, Obama and Sen, McCain were in the center of the room. I laughed to myself when I saw that Sen. McCain was standing on the left and Sen. Obama on the right. Mr. Nader's cardboard cutout was nowhere to be found. We were greeted by two women and a young girl, who were poll workers.

They greeted us and asked my son his name. They had him sign his name in a book and proceeded to give him a ballot. This ballot contained only two names: John McCain and Barack Obama. Again, Mr. Nader's name was not on the ballot. The children were not even given a place for write in candidate. After giving my son the ballot , he was directed to one of three voting booths, where he could make his selection. From behind the cutrtain my son called to me, "Hey Dad, how do you spell independent." I told him I-N-D-E-P-E-N-D-E-N-T. He told me he wrote that below the other choices and placed a large check mark next to the word. He also wrote down Mr. Nader's name and placed his ballot in a collection box.

Upon emerging from the voting booth, my son was asked if he would like to have his picture taken with his candidate. He said he would and he stood off to the far left away from the two cardboard cutouts, next to an American flag standing in the corner. As, I flashed the picture, the two women said, "No, stand next to your candidate and take the picture" With that my son said, "But my candidate is not here" All we heard from the women was a puzzled "Oh!!"

Teach civics in the schools.
—Pat Sweeney
Nutley, NJ

Photo above provided by Revolution Rickshaws.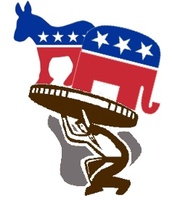 If you haven't reached your breaking point, visit www.breakingpoint08.com.
Send me your Breaking Point story to share at loralynne@votenader.org, so the growing numbers of independent voters can join our voices, and together, we can change the system.
Loralynne Krobetzky
Communications Director
Nader for President 2008
---