Ralph Nader for President 2008 blog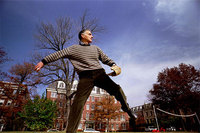 Declare your independence from the flip-floppers McCain and Obama.
Drop $4 now on Nader/Gonzalez for the Fourth of July weekend.
Thank you.
As you enjoy your Fourth of July weekend with friends and family, keep an eye on Nader/Gonzalez:
Continue reading ...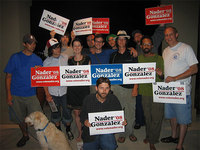 Ralph Nader said on ABC's This Week that the Nader/Gonzalez campaign will be on at least 45 states in November.
Well, time to get it done.
Need a summer job?
We've got one for you.
Become a Roadtripper for Ralph.
Collect signatures to put the Nader/Gonzalez team on the ballot.
Optimum profile for a Roadtripper for Ralph - energetic, youthful spirit, personable, fun loving, adventure seeking, democracy warrior.
Check out Ralph making the pitch for more roadtrippers in this video.
Interested? Contact mark@votenader.org.
By the way, in case you didn't notice, on Saturday, we launched our campaign to raise $40,000 in ten days - by July 6.
You did it in six days.
Continue reading ...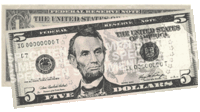 Here's something you can do right now for Nader/Gonzalez.
Why six dollars, you may ask?
Because yesterday, CNN reported that Ralph Nader is at six percent in its most recent national poll.
And while the flip-floppers Obama and McCain might look down on six percent, we are excited.
Our goal of course is much higher.
Right now, our goal is ten percent in the national polls.
Why ten percent?
Because ten percent gets us into the Google sponsored debates in New Orleans on September 18.
If we get on the Google sponsored debates, we're convinced Nader/Gonzalez will move toward 20 percent.
At twenty percent, people see a three way race.
When people see a three way race, everything is possible.
And we believe that in this momentous election year, everything is possible.
Continue reading ...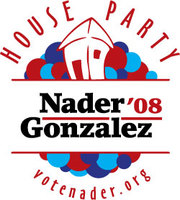 We're having a party!
A Nader/Gonzalez House Party!
And we're inviting you to be one of 100 Nader/Gonzalez supporters to host a House Party on Saturday night July 26, 2008. Sign up now.
With the help of modern technology, you can have Ralph Nader right there with you in your living room.
If you choose to be one of the 100 to host a house party, we will send you a remarkable documentary DVD about Ralph Nader - An Unreasonable Man and the Awake from Your Slumber DVD starring Ralph Nader and Patti Smith - both autographed by Ralph Nader.
Plus, we'll throw in a special collector's edition Nader/Gonzalez button.
The purpose of the National Nader/Gonzalez House Party Day?
Raise $100,000 to help put Nader/Gonzalez on at least 45 state ballots.
Continue reading ...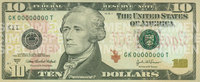 Let's start with this.
We need $10 from you to get Nader/Gonzalez on ten state ballots in ten days.
So, if you haven't donated to Nader/Gonzalez yet, now is the time - please give ten dollars now.
Our goal - $40,000 by July 6.
We have more than fifty young, energetic roadtrippers busting it on the ground all around the country for Nader/Gonzalez - the only candidacy that will shift the power from the corporations back to the people.
(If you think Obama is that guy, think again. Obama is moving in the other direction - running away from the people into the arms of the corporations. Check out Obama's most recent flip-flop on giving immunity to telecom corporations under the government surveillance and wiretapping bill. And then watch Ralph Nader say no to wiretapping here.)
Continue reading ...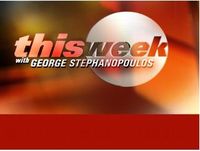 Ralph Nader will be a guest on ABC's This Week with George Stephanopoulos, Sunday June 29, 2008. (Check here for broadcast times in your area).
By the way, there are many definitions of "talking white."
Here's our definition, from the Nader/Gonzalez dictionary:
Continue reading ...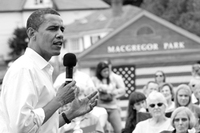 Senator Obama said earlier today that I haven't been paying attention to his campaign.
Actually, I have.
And it's clear from Senator Obama's campaign that he is not willing to tackle the white power structure - whether in the form of the corporate power structure or many of the super-rich - who are taking advantage of 100 million low income Americans who are suffering in poverty or near poverty.
Senator Obama is opposed to single payer national health insurance.
Why?
Because he favors the health insurance giants over the millions of Americans in poverty or near poverty who are uninsured or under-insured. Eighteen thousand Americans die every year because they cannot afford health insurance, according to the Institute of Medicine.
Senator Obama wants to expand the military budget which is loaded with waste, fraud and abuse - instead of cutting it and investing the long ignored peace dividend in the inner cities with good jobs and public works - including schools, clinics, and libraries.
Why?
Because he fears and favors those thousands of lobbyists in charge of enlarging the military industrial complex that President Eisenhower warned us against.
Continue reading ...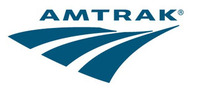 by Ralph Nader
With the rapid expansion of federal spending responding to the perceived national security requirements after 9/11, passenger railroad supporters looked forward to a tripleheader.
First passenger railroad service would have to be upgraded and expanded to facilitate mass population evacuations from cities during attack emergencies.
Second, by embarking on a "national defense" passenger rail program, there would be less consumption of gasoline and less gridlock on congested highways.
Third, the energy efficiency of transporting people by intercity rail and commuter rail would diminish some of the buildup of greenhouse gases.
Continue reading ...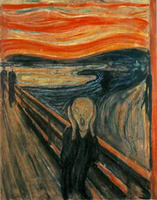 Tomorrow, Senator Obama has a choice.
He can vote to defend the American people and the U.S. Constitution.
Or he can vote with the snooping Bush White House and the telephone companies.
The bill in question grants immunity to the phone companies that illegally participated in the White House's warrantless wiretap program.
Obama says he will seek to remove the immunity provision - but will vote for the bill if that doesn't succeed.
Senator Russ Feingold (D-Wisconsin) calls the bill a capitulation to the phone companies and to the White House.
According to Senator Feingold, under under this bill, "the government can still sweep up and keep the international communications of innocent Americans in the U.S."
Last October, Obama said he would "support a filibuster of any bill that includes retroactive immunity for telecommunications companies."
Now he says he will vote for it.
Continue reading ...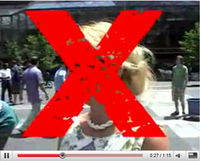 Which Presidential candidate would eliminate the billions of dollars in corporate welfare we pay every year to the ethanol industry?
Obama!
Wrong. (According to today's New York Times, Obama actually has very close ties to corn ethanol industry - an industry that Ralph Nader has called "a multifaceted monstrosity radiating damage in all directions of the compass.")
Many people still consider Obama the progressive candidate in the race.
He's not.
He's just another corporate candidate.
Who's the progressive in the race?
Ralph Nader.
To drive home the point, today we launch The Nader Challenge.
Continue reading ...