New York City Rally and Protest
October 15th: "Open the Debates" Rally at Cooper Union
October 16th: "Jail Time, Not Bail time" Protest in Wall Street
New York City, here we come.
Ralph Nader and Matt Gonzalez are bringing their Independent Presidential campaign to New York City October 15th & 16th! The Nader/Gonzalez campaign stands with people of all political stripes — Greens, Libertarians, Republicans, Democrats, independents, and Constitution party members — disillusioned with the two political parties that were behind the bailout of Wall Street crooks.
Be there.
Choose an event.
Or two.
Or be a trooper, and attend all three.
(For serious troopers, volunteer contacts are listed below.)
Nader/Gonzalez Rally
Wednesday, October 15th, 6pm
Cooper Union, Great Hall
7 East 7th St. at 3rd Ave. NY, NY 10003
Suggested Contribution: $10/ $5 students
(804) 852-6116 or events@votenader.org
While Ralph speaks in Cooper Union, the two corporate candidates will be debating each other without even mentioning the issues that Ralph will talk about and that matter to the American people.
Join Ralph Nader, Matt Gonzalez, singer-songwriter Nellie McKay, and special guests in this superbly fitting, historic venue — at an institution that is a touchstone in the cultural and political life of the nation.

Since 1988, the Commission on Presidential Debates (CPD) has sponsored every presidential debate and kept the discussion empty and staged. Since its inception, the CPD has always been headed by two former chairs of the Democratic and Republican parties. In 1987, the League of Women Voters refused to sponsor any more presidential debates, "because the demands of the two campaign organizations would perpetrate a fraud on the American voter."
Ralph Nader is the only major Presidential candidate who supports jail time, not bail time, for Wall Street fat cats.
So come hear him speak in the historic Cooper Union instead of watching the game show debates on TV.
Ralph will address the crowd on serious issues like withdrawing our corporate and military forces from Iraq and more lighthearted, entertaining subjects such as strengthening shareholder power and taxing derivative speculation.
The Nader/Gonzalez Campaign is on a mission to open these debates for third party candidates, and bring back democracy to the American Voters!
Debate Night Fundraiser
Watch the Debate with Ralph Nader on Large Screen TV
Hear Him Comment
Wednesday, October 15, 8:30pm — 11pm
100 United Nations Plaza (48th between 1st and 2nd) Ground Floor New York City
Hors d'oeuvres and Drinks to be served
$100 Minimum Contribution
Casual Attire
To RSVP: Contact Rob at 202-471-5833 or rob@votenader.org
Protest the Bailout on Wall Street
Thursday, October 16th, 12 Noon
Federal Hall, next to the NYSE
26 Wall Street, New York City
Contact: (804) 852-6116 or josh@votenader.org
Join us in New York City next to the New York Stock Exchange to let the crooks on Wall Street and their politician lackeys know that the American people are not happy with their crooked deals.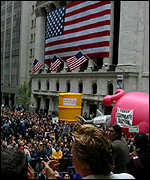 "Inflatable icons of greed at the stock exchange"
Ralph will appear with Matt Gonzalez, CWA Local Union 1180 President Arthur Cheliotis, and Rev. Jarrett Maupin from Arizona — among others — before a diverse crowd objecting to the bailout. This is going to be an afternoon to remember! Come early and take in special appearances by the 30-piece Italian brass band Titubanda, plus political satire by members of the group "Billionaires for the Bailout."

Wall Street protests have become a Ralph Nader specialty. The picture at the right shows an October 2002 rally at which Ralph warned that the Stock Exchange had been turned into "a speculative casino ridden by corruption, deception and crime," words being shouted from today's headlines.
If you cannot make it to the protest or rally — or even if you can — please help us spread the word by forwarding the information to anyone you know who might join us!
To volunteer to help at these events, contact Austin at 804-852-6116 or e-mail Josh at josh@votenader.org.