Nader at NHTSA Video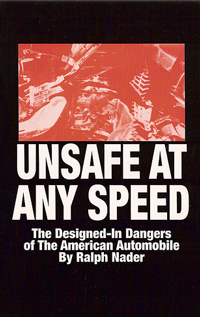 Yesterday, we held a protest at the National Highway Traffic Safety Agency (NHTSA).
NHTSA is the federal agency Ralph Nader brought into being more than forty years ago.
It was set up to make cars safer.
Instead, NHTSA has morphed into a consulting firm for the auto industry.
Now, NHTSA is on the verge of issuing a rule that will deny roof crush victims their rights to seek justice and compensation.
Yesterday , Ralph Nader, a group of auto safety advocates, and others gathered in the rain in front of NHTSA's offices in southeast Washington, D.C. to protest the auto industry's takeover of the federal auto safety agency.
Here's the video report.
Throughout this momentous election year, Ralph Nader and Nader/Gonzalez will be on the streets protesting the corporate takeover of our government.
Please help us with a donation to our protest fund.
Thank you for your ongoing support.
Onward
The Nader Team
---