Nader at White House at Noon Today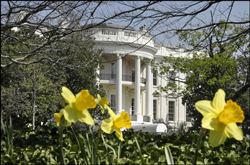 At noon today - as part of our tour of corporate occupied territory (read: our nation's capital) - Ralph Nader will appear with the growing Nader/Gonzalez team in front of the White House to call on President Bush and Vice President Cheney to resign.
C-Span will be there. Watch for it.
And this Memorial day weekend, our supporters have been deployed all around the country to put Nader/Gonzalez on the ballot in November.
For now, we have one simple request:
We need gas money to power our supporters in Pennsylvania.
We estimate the Pennsylvania ballot access drive will cost the campaign $50,000.
So far this week, 101 of you - our loyal supporters - have donated a total of 8,108.
We need another 420 of you to donate $100 each to reach our goal.
These are exciting times.
People are starting to understand that corporations are consolidating control.
And that as a result of that corporate control, people are hurting.
Simple as that.
Gasoline prices skyrocketing over $4 a gallon.
More than 4,000 young Americans dead in Iraq.
Still no universal, Canadian style national health insurance.
Why?
Because both political parties controlled by big corporations. And thus they can't stand with the people. (Another brick on this wall: The Rocky Mountain News reports this week that the Democratic National Convention in Denver this summer is being sponsored by 56 major American corporations.)
The question is - what are we going to do about it?
The answer is - organize for November and beyond.
That is why we are here.
So, please support Nader/Gonzalez now.
Together, we will make a difference.
Have a happy and safe Memorial Day weekend.
Onward.
The Nader Team
PS: We invite your comments to the blog.



---