Ralph Nader for President 2008 blog
You are sixteen. You can legally work, drive a motor vehicle and with parental consent get married in most states. Why can't you legally vote?
Good question, and one that supporters for dropping the voting age from eighteen to sixteen will be asking politicians more and more. Much has been made of the youth vote this year amid evidence that more young people are turning out to vote in the primaries than ever before. Let's take it to the next step.
I argued for the voting age drop from twenty one to eighteen back in the Sixties before it finally happened in 1971 with the ratification of the Twenty Sixth Amendment to our Constitution. The absence of a vibrant civic culture inside and outside our schools drained away much of the potential of this electoral liberation for youngsters. Their turnout was lower than older adults.
Sixteen year olds are likely to be more excited. They are studying and learning about the country and the world in high school. They're still at home and can bring their discussions to their parents, who may turnout at the polls more as a result.
Fifteen year old Danielle Charette, writing last January in the Hartford Courant says: "Consumed in the distraction of their first semester at college, many eligible voters fail to arrange for absentee ballots. Of course, if annual voting became more habitual starting in high school, reading up on the candidates and voting while away from home wouldn't seem out of the ordinary."
Moreover, social studies teachers in high school would be keener on non-partisan class analyses of candidates if their students were able to vote.
Ms. Charette made another telling point. Sixteen year olds who also work pay taxes but they have no vote. This is "taxation without representation," she exclaimed.
Continue reading ...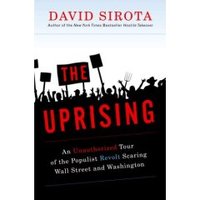 David Sirota has written a book.
The title: The Uprising: An Unauthorized Tour of the Populist Revolt Scaring Wall Street and Washington.
Sirota says he hopes that the Presidential election will be a vehicle for the expression of the uprising against Wall Street and Washington.
This morning, Sirota was on Democracy Now being interviewed by Amy Goodman and Juan Gonzalez.
On Democracy Now, Sirota said that there is great anger and disaffection in America directed at not just the government, but also at corporate America, at big business, at banks and the financial system.
And for twenty minutes, he talked and talked and talked about the uprising in this momentous Presidential election year.
Continue reading ...
St. Augustine said that hope has two beautiful daughters – anger and courage.
The Nader/Gonzalez roadtrippers are the beautiful sons and daughters of hope – they are angry at what is happening to our country – but they are taking courageous positive action to make things better.
In West Virginia, Albert Marino and his team are on their way to putting Nader/Gonzalez on the ballot in the mountain state.
In Illinois, Joshua Tucker and his team have 25,000 signatures in hand and will bust it this month to hit our 50,000 goal by June 23. (Pictured here is Ryen Karman with a friend in Chicago)
Joshua wrote this to us from the road:
Continue reading ...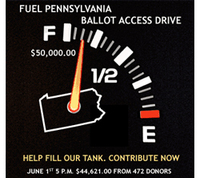 Last week, we asked for gas money to fuel the first leg of Ralph Nader's East Coast Tour.
You came through with flying colors and filled our tank.
Thank you.
Now, we need gas money to fuel the second leg of Ralph's East Coast Tour - this time through New England.
Nader/Gonzalez has rented a car and Ralph and his entourage will be traveling starting Thursday from Ralph's home in northwest Connecticut to Kennebunkport and Portland, Maine, on to Cambridge, Massachusetts, south to Providence, Rhode Island, over to Middletown, Connecticut and then back home.
Check out the schedule below.
But right now, we need gas money to fuel this leg of Ralph's speaking tour.
Please donate whatever you can now to fill up our tank.
You can give up to $4,600.
But $500, $100, $50 - whatever you can donate is what we need.
Your contribution could be doubled. Public campaign financing may match your contribution total up to $250.
Continue reading ...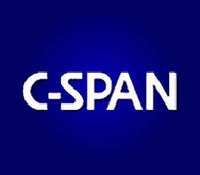 In case you haven't heard, Ralph Nader will be on C-Span 2 tonight for one hour from 7 p.m. to 8 p.m. EST.

He'll be speaking with students from around the nation participating in the Close Up Foundation's week-long government studies program.

Continue reading ...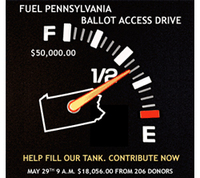 Earlier this month, we asked for gas money to fuel Ralph Nader's West Coast Tour.
You came through with flying colors and filled our tank.
Thank you.
Now, we need gas money to fuel Ralph's East Coast Tour.
Starting tomorrow, Ralph will leave for rallies in Baltimore, Philadelphia, Princeton, Princeton, New York and New England.
Continue reading ...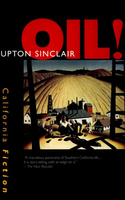 What factors are causing the zooming price of crude oil, gasoline and heating products? What is going to be done about it?
Don't rely on the White House - with Bush and Cheney marinated in oil - or the Congress - which has hearings that grill oil executives who know that nothing is going to happen on Capitol Hill either.
Last week the price of crude oil reached about $130 a barrel after spiking to $140 briefly. The immediate cause? Guesses by oil man T. Boone Pickens and Goldman Sachs that the price could go to $150 and $200 a barrel respectivly in the near future. They were referring to what can be called the hoopla pricing party on the New York Mercantile Exchange. (NYMEX)
Meanwhile, consumers, workers and small businesses are suffering with the price of gasoline at $4 a gallon and diesel at $4.50 a gallon. Suffering but not protesting, except for a few demonstrations by independent truckers.
A consumer and small business revolt could be politically powerful. But what would they revolt to achieve? Their government is paralyzed and is unable to indicate any action if oil goes up to $200 or $400 a barrel. Washington, D.C. is leaving people defenseless and drawing no marker for when it will take action.
Continue reading ...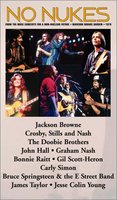 No Nukes.
It was the battle cry in a successful anti-nuclear movement Ralph Nader led in the 1970s.
Now, nuclear power is resurgent.
Why?
Because politicians like McCain, Obama and Clinton all want to keep nuclear power on the table.
All three support legislation that would provide government taxpayer subsidies and guarantees to power companies to build nuclear power plants.
Nader/Gonzalez take nuclear power off the table.
Nader/Gonzalez oppose government subsidies and guarantees to the nuclear industry.
The billions are far safer and better spent supporting energy efficiency and solar energy projects than building these nuclear national security risk boondoggles.
Tomorrow (Thursday, May 29, 2008, 12 noon) Ralph Nader and the Nader/Gonzalez team will be outside the nuclear power lobby's headquarters in downtown Washington, D.C. to call for a halt to the head-long rush to nuclear power.
Once again, we will be saying loud and clear - No Nukes.
Why?
Continue reading ...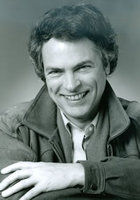 This week, Senator Barak Obama traveled to Florida and spoke to Jewish and Cuban-American audiences. In those speeches, he embraced the right-wing policy positions of the American Israel Political Action Committee (AIPAC) and the hard-line program of the most reactionary elements of the Cuban exile community.
Senator Obama was for many years considered pro-Palestinian, but a year ago when he spoke sympathetically about the suffering of Palestinian people, he quickly backed off his statements under pressure from the Israeli lobby. His surrender to AIPAC this week is particularly troubling because it comes at a time when more and more Americans - including Jewish Americans - are awakening to the fact that the Israeli lobby is a threat to both America and Israel, because its unwavering support for the expansion of colonial settlements and its resistance to serious peace negotiations serve to block the two-state solution which could otherwise be within reach.
Last year, George Soros wrote in the New York Review of Books that the power of the Israeli lobby should be challenged by the creation of a new Jewish lobby in America, one committed to peace and justice. Just such a group was recently formed in Washington, D.C., calling itself "J Street." Former President Jimmy Carter has warned that the occupation of Palestine is creating an Israeli apartheid.
Continue reading ...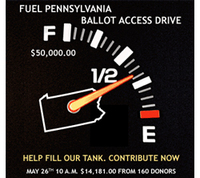 Ralph Nader is on the road again.
Starting this Friday, Ralph will be on the road to Baltimore, Wilmington, Philadelphia, Princeton, New York City, and New England.
Check schedule here.
If you are in the neighborhood, please come out to hear Ralph speak and support Nader/Gonzalez.
In this election year, it's going to be a four-way race for President - Ralph Nader, Bob Barr, John McCain, and Barack Obama.
To seriously challenge the two major corporate parties, we need to get Ralph Nader and his running mate Matt Gonzalez on the televised national debates.
Continue reading ...