Ralph Nader for President 2008 blog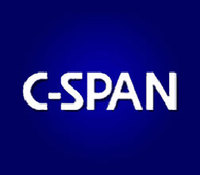 It was a glorious spring morning in Washington, D.C.
The sun was out.
Tourists were everywhere.
And Ralph Nader and the Nader/Gonzalez Team were in front of the White House this morning calling for the resignation of Bush and Cheney.
C-Span has just informed us that Ralph's 47-minute indictment of Bush and Cheney will be played on C-Span One about 6:40pm EST.
Hope you get a chance to see it.
Continue reading ...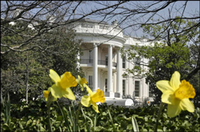 At noon today - as part of our tour of corporate occupied territory (read: our nation's capital) - Ralph Nader will appear with the growing Nader/Gonzalez team in front of the White House to call on President Bush and Vice President Cheney to resign.
C-Span will be there. Watch for it.
And this Memorial day weekend, our supporters have been deployed all around the country to put Nader/Gonzalez on the ballot in November.
For now, we have one simple request:
We need gas money to power our supporters in Pennsylvania.
We estimate the Pennsylvania ballot access drive will cost the campaign $50,000.
So far this week, 101 of you - our loyal supporters - have donated a total of 8,108.
We need another 420 of you to donate $100 each to reach our goal.
These are exciting times.
People are starting to understand that corporations are consolidating control.
And that as a result of that corporate control, people are hurting.
Continue reading ...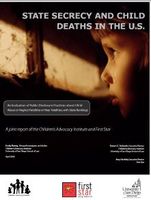 Many of the young people who came to work for Ralph Nader in the 1960s and 1970s - the Nader's Raiders of our youth - went on to do great things.
One of those early shining stars was Robert Fellmeth.
After writing books and reports as a Nader's Raider, Fellmeth went on to found the Children's Advocacy Institute at the University of San Diego Law School.
Last month, the Institute released an eye-opening report titled "State Secrecy and Child Deaths in the United States."
The report finds that abused children are dying under a shroud of state secrecy.
It ranks all 50 states from A to F - and ten states get an F.
The report found that the majority of U.S. states fail to release adequate information about fatal and life-threatening child abuse cases, adhering to misguided and secretive policies that place confidentiality above the welfare of children and prevent public scrutiny that would lead to systemic reforms.
We wanted to bring this report to your attention.
Why?
Continue reading ...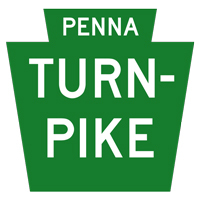 CNN's Larry King Live from early this morning (May 21, 2008)
Caller: Yes, John King, I wanted to know if Ralph Nader comes on the scene during the general election, who would that affect more? If it would be Hillary Clinton be the nominee or Barack Obama?
John King: Well, it's an interesting question you ask. Let me go to our electoral map to take the question. The simple answer is we don't know. Because it might not only be Ralph Nader who will be running but also the libertarian, that could be former Congressman Bob Barr. If he wins the libertarian nomination, so you could have a republican/conservative like Bob Barr, somebody like Ralph Nader who has come in. Would Ralph Nader hurt the democrats more if it were Clinton versus Obama? That's a tough question to answer.
One of the things we do know is that Ralph Nader would go on. He has an anti-corporate message. He tends to run a more populist anti-corporate, anti-special interest message. It's a place where he could get, much like what Ross Perot did back in 1992, small but significant percentage of the vote in a place like Ohio. I remember back when he ran a few cycles back. He had a good - he went after Chrysler at one point, the Jeep plant out there. And he had a good band of organization out in Toledo. So, it doesn't take much in presidential politics if it's real close to make a difference. I see no evidence at the moment that Ralph Nader would be a factor in this race. But if he got in, if he campaigned vigorously, again, in some states it would only take a point of two, a percentage or two maybe three percent is going to have an influence but too early to answer that question. But if you're going to see where it would have an influence, it would most likely be out here, if at all.
Here's one thing we are sure of.
As CNN's John King put it - Ralph Nader will go on.
Why?
Continue reading ...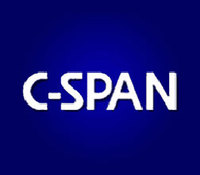 Earlier this week, we put out a press release questioning whether Senator McCain still abides by his 2000 pledge to hold weekly press conferences and submit to question time from members of Congress.
We've just now been alerted to the fact that last week, Senator McCain renewed his pledge that if elected President, he would hold weekly press conferences and British-style question time.
Continue reading ...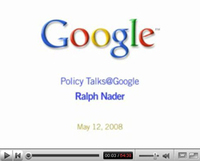 Watch Policy Talks @ Google: Ralph Nader
"To know and not to do is not to know."
by Ralph Nader
Mountain View, California - An invitation to visit Google's headquarters and meet some of the people who made this ten year old giant that is giving Microsoft the nervies has to start with wonder.
The "campus" keeps spreading with the growth of Google into more and more fields, even though advertising revenue still comprises over 90 percent of its total revenues. The company wants to "change the world," make all information digital and accessible through Google. Its company motto-is "Do No Evil," which comes under increasing scrutiny, especially in the firm's business with the national security state in Washington, D.C. and with the censors of Red China.
Google's two founders out of Stanford graduate school -Sergey Brin and Larry Page-place the highest premium on hiring smart, motivated people who provide their own edge and work their own hours.
We were given "the tour" before entering a large space to be asked and answer questions before an audience of wunderkinds. E-mail traffic was monitored worldwide with a variety of electronic globes with various lights marking which countries were experiencing high or low traffic. Africa was the least lit. One of our photographers started to take a picture but was politely waved away with a few proprietary words. A new breed of trade secrets.
I noticed all the places where food-free and nutritious-was available. The guide said that food is no further than 150 feet from any workplace. "How can they keep their weight down with all these tempting repasts?" I asked. "Wait," he said, leading us toward a large room where an almost eerie silence surrounded dozens of exercising Googlelites going through their solitary motions at 3:45 in the afternoon.
"How many hours do they work?" one of my colleagues asked. "We don't really know. As long as they want to," came the response.
Continue reading ...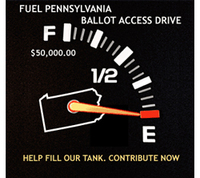 Some things should be public.
And some things should be private.
Our national road system was built with public funds.
And should remain in public hands.
But no.
Governor Ed Rendell has decided to turn over the 514-mile Pennsylvania Turnpike to a private foreign corporation.
Yesterday, Rendell said that a group of big banks (led by Citigroup) and foreign corporations (led by a Spanish company Abertis) had bid $12.8 billion for a 75-year lease on the turnpike.
The legislature should defeat this brazen giveaway.
"The public paid for the turnpike," Ralph Nader said yesterday. "The public should maintain operational control. The turnpike is a commonwealth asset for motorists and workers."
Continue reading ...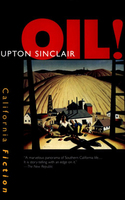 The first truth is that the liberty of a democracy is not safe if the people tolerate the growth of private power to a point where it becomes stronger than their democratic state itself. That, in its essence, is fascism - ownership of government by an individual, by a group, or by any other controlling private power.
- Franklin D. Roosevelt
Across the country, people are rising up to protest gasoline price gouging.
Last week, a man climbed atop a gas station roof in Valparaiso, Indiana.
And he began singing a protest song - Price Gouge'in.
Price Gouge'in
So we're shoutin
Who's Jackin up the cost of fuel?
I can't afford it
I'm bangin on my dashboard
I can't believe they think I'm a fool
In Tallahassee, Florida, Harold Burton, the owner of a door replacement business, began a protest at the state capitol building.
"I will be relentless on this pursuit and I will not give up," Burton told reporters. "There might only be a half dozen to a dozen people here right now, but I will do this every week until there is millions. I'm looking to get everybody off the couch and out, across America."
In Bristol, Tennessee, owners of local lawn care companies were out along the highway protesting.
They wanted local and state lawmakers to take action to bring down the price of gasoline.
Here in corporate occupied territory - aka our nation's capital - Nader/Gonzalez will be out in force tomorrow - Tuesday, May 20, 2007 at 12 noon.
Continue reading ...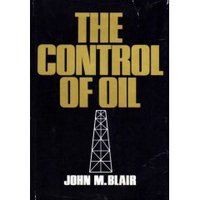 Fed up with paying $70 to fill up your car with gasoline?
What to do?
If you are in corporate occupied territory (read: our nation's capital) next Tuesday, join with Ralph Nader and the Nader/Gonzalez team to protest oil industry speculation, manipulation, and conglomeration that is driving gasoline prices over $4 a gallon.
The protest will be held at noon on Tuesday, May 20, 2008 at oil industry lobby headquarters (American Petroleum Institute) at 1220 L Street, NW, Washington, D.C. (Corner of 13th and L Streets, NW)
We are also inviting the Obama, Clinton and McCain campaigns to join with us at this protest.
Continue reading ...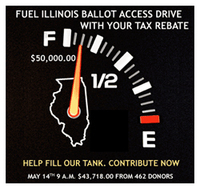 While most of us sit in front of screens typing and searching, Ralph Nader still types out his prose on a manual Underwood typewriter.
On Monday, Mr. Underwood traveled to Google headquarters in Mountain View, California.
Nader is not easily dazzled by technological wonders.
Throughout his career, Nader has confronted head-on the downside of nuclear, automobile, genetic engineering and other industrial advances.
And now he's questioning the enormous amount of time we spend in front of our computers.
Has Google and the information revolution that it leads made our society better?
Or is it just another mass diversion from the reality of the corporate takeover of our democracy?
At Googleland, Nader took questions for an hour.
And then sat down for an eight-minute interview with Youtube.
Continue reading ...