Ralph Nader for President 2008 blog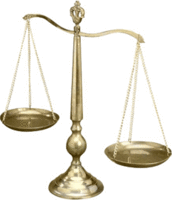 Ralph told me the other day how many people he meets in his travels through the 50 states that say: "I didn't even know you were running. Now that I know, I am definitely going to vote for you."
Continue reading ...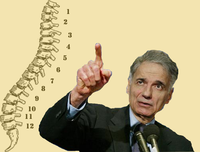 Congress needs to show some backbone before the federal government pours more money on the financial bonfire started by the arsonists on Wall Street.
Continue reading ...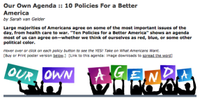 You've heard it before: Ralph Nader is too radical to be president. But is he too radical for the 73% of Americans who say corporations don't pay enough taxes?
Continue reading ...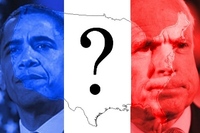 If the future of all Americans is at stake in the current crisis, shouldn't all Americans have representatives at the table?
Continue reading ...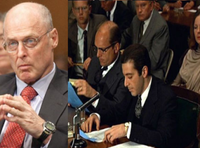 The top of the news is still dominated by fears of Great Depression II. No mention of hope fever, field stripping moose, or lipstick.
I'm sure that the Democratic and Republican presidential candidates are tirelessly working behind the scenes to insure a better deal for voters. Yet, from the ghost-like details of their bailout and accountability plan, it seems more like they are in the Federal Witness Protection Program.
Continue reading ...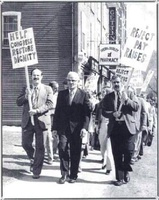 I was up on Capitol Hill yesterday among the swarm of big bank lobbyists.

And the first thing I thought of was something my dad -- Nathra Nader -- used to say:

"Capitalism will always survive in the United States as long as the government is willing to use socialism to bail it out."

Dad was old school.
Continue reading ...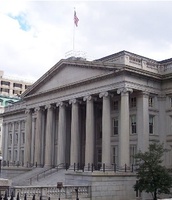 Pass It On ...

Not only do McCain and Obama lack any sort of substantive plan for addressing the economic crisis, but their contributors and campaign advisers have a vested interest in repeating another sweet deal for Wall Street.

Onward!

Ashley Sanders
The Nader Team

Continue reading ...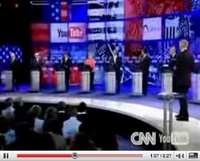 Friday is looming. The first presidential "debates." You know, the ones sponsored by the Democratic and Republican parties, along with their corporate sponsors.
Well, we have a preview for you -- of a different kind of debate. We think that you will demand more like it.

Continue reading ...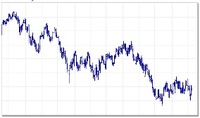 Today's headlines and news cycle are dominated by the $700 billion bailout proposal for Wall Street -- with taxpayer money. Make no mistake, this meltdown is genuinely serious and threatens a complete collapse of the U.S. economy without massive government intervention. But the question is, should the bailout, as the Bush Administration and others demand, be given without strings attached?
Continue reading ...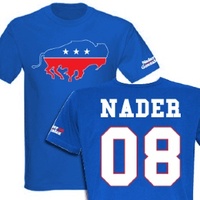 Before the NFL season kicked off three weeks ago, we here at the Nader Team decided that our mascot was going to be the American Buffalo.
Strong.
Proud.
Native American.
And we designed a campaign shirt (pictured here) with the buffalo on the front.
And Nader 08 on the back.
Then, low and behold, we watched as the Buffalo Bills started their season 3 and 0.
And we said to ourselves -- this must have meaning.
Continue reading ...