Ralph Nader for President 2008 blog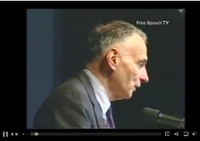 Here is Ralph's speech from the Denver Super Rally, compliments of Free Speech TV. We've posted in in six parts on the Nader YouTube Channel. Be sure to bookmark the site so you can keep up with the latest video postings.

Onward!
The Nader/Gonzalez Web Team
Continue reading ...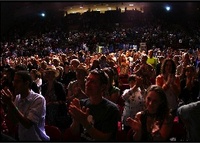 Last night in Denver was a wild party for democracy.
Four thousand people jammed into Magness Arena.
Sean Penn hit it out of the ballpark.
Tom Morello sang a glorious version of Woody Guthrie's This Land is Your Land.
Cindy Sheehan ripped into the dastardly twins (Democrats and Republicans).
Two new supporters came out of the woodwork to support Nader/Gonzalez.
Continue reading ...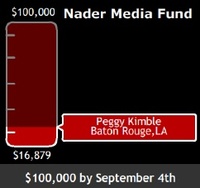 Drop $8 on Nader/Gonzalez now.

Why?
We're celebrating again.
Because Ralph just polled 8 percent in New Mexico.
It is just remarkable.
Approaching zero media publicity.
And Nader is still polling at six, seven and eight percent in the polls.
Check out this one just in from Time/CNN.
Continue reading ...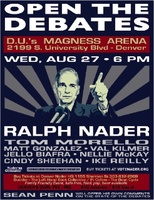 D-Day.
Denver tonight 6 p.m.
University of Denver Magness Arena.
Sean Penn, Tom Morello, Cindy Sheehan, Jello Biafra, Ralph Nader and Matt Gonzalez will be there.
Standing up to the corporate two-party controlled debate commission.
Calling for an opening up of the Presidential debates.
Continue reading ...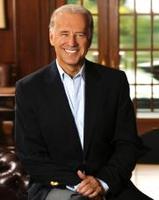 Drop $39 now on Nader/Gonzalez.
Why?
To protest Obama's choice of the Senator from MasterCard for VP.
That would be Senator Biden.
(By donating $39 now to the Nader Media Fund, you'll be helping us report more on Mr. Plastic in the days to come, but for starters, check out our latest video, and this account of how Biden fronted for the credit card companies in Congress.)
Continue reading ...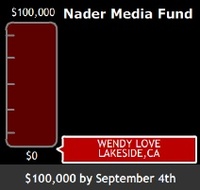 As a big part of the homestretch push to Election Day, we are starting a new media fund drive -- $100,000 in ten days -- by the end of the Republican convention.
We're cruising. You've helped get us on 37 state ballots thus far (more to come soon) and Nader/Gonzalez has been at 5% or above in several national polls. But the big bucks news media has responded with a deep freeze-out. So, it's up to us to break through and get our own message out.
Enter the Nader Media Fund.
Continue reading ...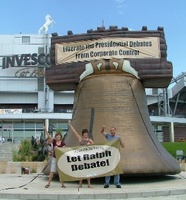 Dear Senator Obama:
The Nader Team just arrived in Denver for the DNC.
We wanted to see what all the fuss was about, so we paid a visit to Invesco Field, the site of your upcoming speech.
Ironically, it was easier for us to get in there than it was to get in one of your debates.
Here we are protesting that fact.
Continue reading ...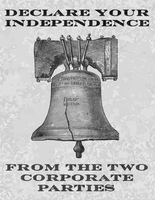 Next Wednesday, Denver is going to be rockin.
Thousands will be gathered at the University of Denver Magness arena to protest the corporate lockdown on the Presidential debates.
Sean Penn, Val Kilmer, Cindy Sheehan, Tom Morello, Jello Biafra and others will join Ralph Nader and Matt Gonzalez.
Demanding an end to the corporate control over the Presidential debates.
Continue reading ...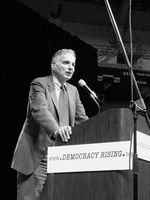 by Ralph Nader
This week, The Wall Street Journal reported that Federal Deposit Insurance Corporation (FDIC) officials are pushing various agencies charged with regulating banks, such as the Treasury's Office of Thrift Supervision to more aggressively give problem banks lower ratings than they may now be receiving from regulators. Regulators give banks a rank between 1 and 5. Well-managed banks get a 1, problem banks receive a 4 or 5. The FDIC wants to see more banks getting 4s or 5s.
Continue reading ...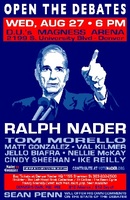 As late as yesterday, we didn't think we had a chance.
For the first time in this campaign, we were at serious risk of missing a self-imposed financial goal.
Then, yesterday, you came through.
And now, we're back in it.
Continue reading ...