Ralph Nader for President 2008 blog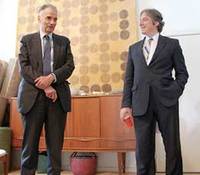 Dear supporter,
We've just finished another hectic day here in the D.C. office and I wanted to dash off a quick update about the "Dinner with Ralph" e-mail contest. The whole team (including Ralph, who came up with the idea!) is blown away to see so many people sign-up as contestants, and even more as participants and supporters.
Over the last five days, over 200 of our supporters have reached out to more than 10,000 of their friends -- clearly there's nothing like a little of the good ol' competitive spirit!
And, we've just added two new prizes!
Continue reading ...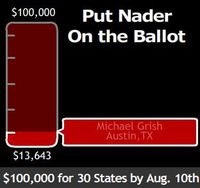 Is Nader/Gonzalez for real?
The country wants to know.
Will Nader/Gonzalez be on enough ballots in November to make a run for it?
And to be seriously considered for the Presidential debates?

Continue reading ...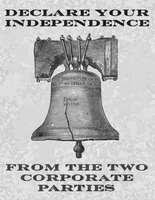 Dear Bill Greider, Jim Hightower, and Bob Kuttner:
I write this letter of inquiry out of respect and wonderment to my three friends whose progressive writings over the past generation have been second to none in the community of public intellectuals.
You write cogently - as if people matter first, as if responsive elections, politics and government are critical for a resourceful society that is functionally and institutionally dedicated to the pursuit of justice.
Continue reading ...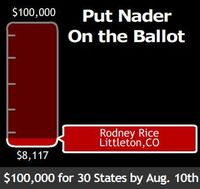 Why?
Starting today, Ralph Nader is on the road again.
This time campaigning through the South and then out West.
Continue reading ...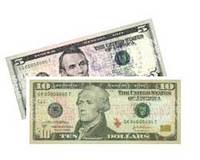 Drop fifteen dollars now on Nader/Gonzalez.
Why?
We now enter the most difficult and challenging ballot access stretch of the campaign.
We need to get on fifteen more states in fifteen days.
Last month, we laid out an ambitious ballot access plan.
Thanks to you, we have met stages one and two on time and on schedule.
Now, on to stage three -- 15 more states, a total of 30 states, by August 10 -- on our way to 45 states by September 15.
Continue reading ...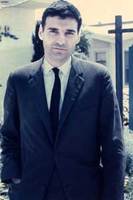 Yes, indeed.
You read that right.
You can win the grand prize -- a dinner with our main man -- Ralph Nader (at a mutually agreed time and place.)
How?
We're looking to build our e-mail list, to expand our grassroots support, and to spread the bedrock Nader/Gonzalez campaign message -- shift the power from the corporate controlled political parties back into the hands of the people.
So, we're having a contest.
The person who brings in the most e-mail sign-ups by August 7 at midnight to votenader.org wins.
Open to legal U.S. residents, 18 years or older at time of entry.
Continue reading ...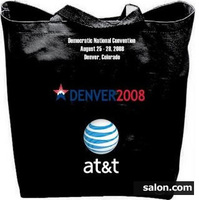 Well, you did it.
We needed to raise $60,000 by midnight yesterday.
And you blew by that early in the weekend and almost hit $70,000 by last night.
Thank you.
Your generous support helped fund stage two of our ballot access drive – fifteen states by July 20.
As promised, we have now collected enough signatures to put Nader/Gonzalez on the ballot in 15 states. Click here to see our current ballot access map.
Last month, we laid out our ambitious ballot access timetable:
Ten states by July 6.
Fifteen states by July 20.
Thirty states by August 8.
Forty states by September 1.
Forty-five states by September 15.
Thanks to you, we have met the goals of stage one and stage two on time.
Continue reading ...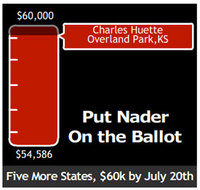 Listen to my Saturday morning audio message
here
.)
Good morning.
This is Ralph Nader.
It is Saturday, July 19, 2008.
As you know, hundreds of our stalwart supporters are deployed all over the country this weekend -- on street corners, at malls, in front of post offices -- seeking to meet their commitment to put Nader/Gonzalez on 15 state ballots by tomorrow midnight.
On our way to 45 state ballots by September 20th.
Continue reading ...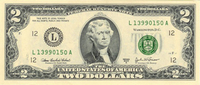 Last week, we set a fundraising goal of $60,000 by Sunday July 20 midnight - to put Nader/Gonzalez on the ballot in a total of 15 states.
In one week, we have raised $44,000.
Now, we need your help to raise the remaining $16,000 over the next three days - by Sunday midnight.
Continue reading ...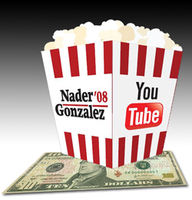 Drop a ten spot on Nader/Gonzalez now.
Why?
Because that's about the price of a movie ticket.
Instead of going this weekend to see Hellboy II or Hancock.
Take that ten dollars and support Nader/Gonzalez cinema.
And catch some of our classics.
Continue reading ...